Hi,
I have a dataset with negative values, they are actually positive but I have made them negative to not be used in further calculations because there is an error with those data points. I still want them to be plotted in the plot but with positive value, but I would like the marker to be 'X' to show that the datapoint should not be used in calculations, the color is picked from the dataframe.
I have given a snippet code I started working on, the second plot below shows the output I am trying to achieve. Should I try something like CustomJSTransform for this problem? Anyone that can help me out?
from bokeh.models import ColumnDataSource
from bokeh.plotting import figure, output_file, show

output_file("vline_stack.html")

source = ColumnDataSource(data=dict(
    x=[1, 2, 3, 4, 5],
    y1=[-1, -2, 4, 3, 4],
    color = ['blue', 'blue', 'blue', 'blue', 'blue']
))
p = figure(plot_width=400, plot_height=400)

p.scatter(x='x', y = 'y1',  source=source, size = 14, color = 'color',  marker = 'circle')

show(p)

Result: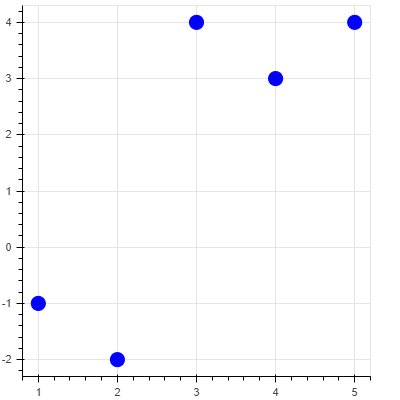 What I would like to show (negative points either removed or they stay on the plot). Most important part is the absolute value of the negative points showing up as X with the color defined from the dataframe.