import bokeh
bokeh.__version__

Output: BokehJS 2.1.0 successfully loaded.
from bokeh.io import output_notebook, show
from bokeh.plotting import figure
output_notebook()

Year = ['1950','1955', '1960','1965', '1970','1975', '1980','1985', '1990','1995','2000','2005','2010']
Growth = [15, 20, 25, 30, 35, 40,45,50,55,60,65,70,75]

plot = figure(x_range=Year,y_range=(0, 100),plot_height=350, title="Population Increase",
           toolbar_location=None, tools="")
plot.xaxis.axis_label = "Year"
plot.yaxis.axis_label = "Population(in Millions)"
plot.vbar(x=Year, top=Growth, width=0.8,color="#6666ff")

plot.xgrid.grid_line_color = None

plot.y_range.start = 0

show(plot)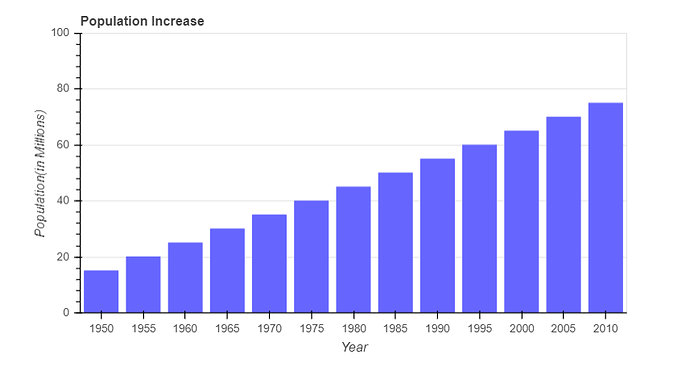 the issue I am facing that is Y_axis LABEL is not rendering properly,I searched the discourse and stack overflow,I am not sure that I found a solution…pls help on how to remove this error??
In Jupyter notebooks:
And there is also one another behaviour that is really annoying that once u have declared output_file intentional or by mistake,It will make all the cells in jupyter notebooks to do both show graph in notebook and show it in new tab,how to solve it?