Hi everybody,
I am trying to build with bokeh an interface for which the main plot is a barchart where every bar is associated with some other data that can be represented in a lineplot.
My idea is that whenever a user clicks on a specific bar, the specific lineplot figure (with the appropriate curve) appears just below the barchart.
If possible, I would even prefer that the line is changed when the mouse just hovers the bar, and the line eventually remains when the bar is clicked.
As a dummy example here's some code below:
import bokeh
import numpy as np
from bokeh.io import output_notebook
from bokeh.plotting import figure, show
output_notebook()

from bokeh.layouts import gridplot


xx = np.linspace(0,10,500)
y = np.sin(xx)
barelements = [2,5,7]

figure_barchart = figure(height=250, title="A Barchart")
figure_barchart.vbar(x=[0,1,2], top=barelements, width=0.5, bottom=0, color="red")

p1 = figure(title='line1', height=150)
p1.line(x=xx, y=y)

p2 = figure(title='line2', height=150)
p2.line(x=xx*3, y=y**2)

p3 = figure(title='line3', height=150)
p3.line(x=xx/2, y=y**3)


show(gridplot([[figure_barchart],[p1],[p2],[p3]]), tools="")

Which should produce something like this: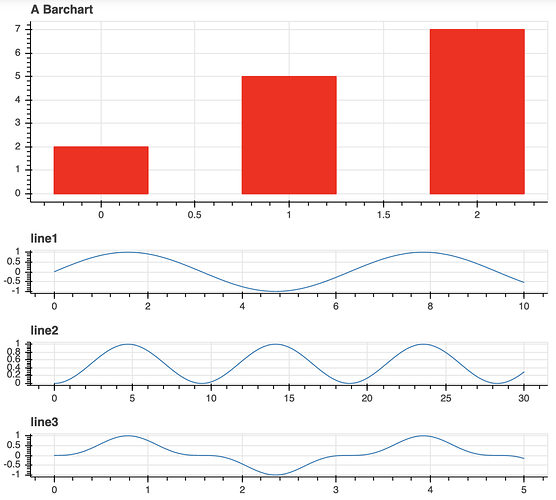 The details of the data used are not important, what I care about is that in the end I just have a column of 2 figures, where the one at the bottom changes whenever I click on a different bar of the barchart.
While in this example things are still manageable because I only have 3 bars, my use case could have in principle much many more bars (on the order of 50 if not more).
Do you have any suggestions about how I could go implementing this?