I have the following setup, where I derive my legends from bunch of renderes:
legend = Legend(items=[
    ("Ask Orders", [ask_start_pts, ask_bars, ask_end_pts]),
    ("Ask Trades", [ask_fill_markers]),
    ("Bid Orders", [bid_start_pts, bid_bars, bid_end_pts]),
    ("Bid Trades", [bid_fill_markers]),
    ], location="center", label_text_font_size='8px', click_policy='hide')

However, there are variable alpha properties, stored within the ColumnDataSource. Some of my glyphs are at alpha 1.0, when some might be at 0.25. For that reason, my legends seem to be inheriting these alpha values, which make them look strange.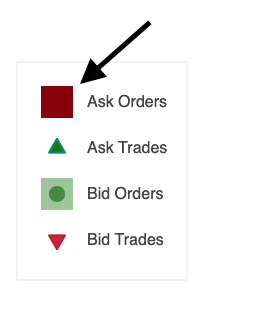 As you can see, in one of the legends, there is transparency so we see the circle and the box, where in the other, the box is completely opaque and we don't see the circle. Is there a way to override the properties of each legend component?