After many attempts to integrate Bokeh server into my Django-backed website, and I've achieved a level of interactivity in communicating technical information that I've been wanting for a long time.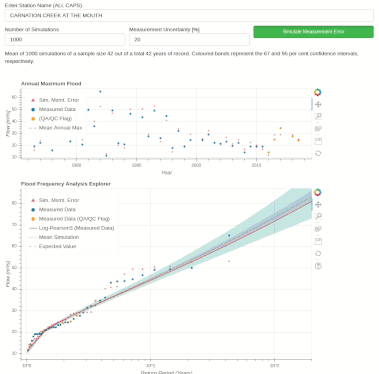 The Flood Measurement Error explorer is an attempt to convey the way plotting measured data in a deterministic 'visual encoding' way, especially highly uncertain measured data, is naturally misleading. I've written a slightly more detailed post about it here.
By far the most difficult part for me has been integrating Bokeh with Django and running the application behind an SSL proxy. Jonathan Bennet's example repo was a big help, but the biggest hurdle was biting the bullet and leaving my old host (nearlyfreespeech) for DigitalOcean. The tutorials DO have created for everything server configuration, etc. are incredibly helpful. It came down to more trial and error than I'm happy to admit, but the documentation on reverse proxying and SSL termination has been growing, so thanks to all the contributors for that!