Dear bokeh community,
I am trying to use python callback triggered by SelectionGeometry event on image_rgba but it is very slow. Tried the same using js callback and it works nicely.
This behaviour is present both for lasso_select and box_select.
Tried on safari and chrome, using bokeh version 2.3.1
Code example
from bokeh.models import CustomJS
from bokeh.plotting import figure, output_notebook, show
from bokeh.events import SelectionGeometry
from bokeh.application import Application
from bokeh.application.handlers import FunctionHandler
import numpy as np

output_notebook()

# Choose 'python' or 'js'
case = 'python'

def f(doc):

    N = 1000
    img = np.empty((N,N), dtype=np.uint32)
    view = img.view(dtype=np.uint8).reshape((N, N, 4))
    for i in range(N):
        for j in range(N):
            view[i, j, 0] = int(i/N*255)
            view[i, j, 1] = 158
            view[i, j, 2] = int(j/N*255)
            view[i, j, 3] = 255
    plot = figure(tools="lasso_select, box_select, wheel_zoom")
    plot.image_rgba(image=[img], x=0, y=0, dw=10, dh=10)

    if case == 'python':
        plot.on_event(SelectionGeometry, lambda x: None)
        
    else:
        plot.js_on_event(SelectionGeometry, CustomJS(code=""" """))

    doc.add_root(plot)
    
    return doc
    
handler = FunctionHandler(f)
app = Application(handler)

show(app)

Here is the screenshot of desired result.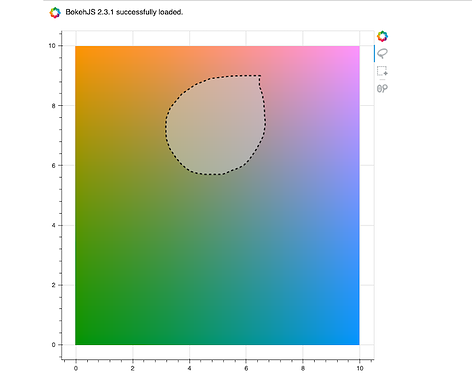 Am I doing something wrong ?
Thank you,
Ben