Hello!
I recently updated bokeh version from 2.3.0 to 2.4.3.
Following the update, the Toolbar presents a new behavior where icons are collapsed into a 3 dots button.
The following images show how the buttons are presented initially and what happens when the size of the figure is reduced.
Is there a way to roll back/disable this behavior?
Thanks!
Ofir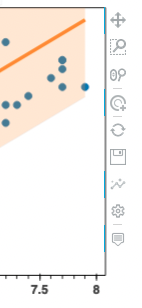 Note: In some cases, the figure is huge but the icons still collapse into the 3 dots icon.