Hi there,
I am facing a situation in which I feel particularly stuck. I am designing a heatmap with rectangles. This heatmap is interacting with 2D plots : x_axis_type is datetime and they share the same range. It turns out in this situation the width parameter value has absolutely no effect ; I have huge white gaps, which are the main area once the figure is zoomed enough. I wish I had absolutely no gaps, and see the rectangles standing edge to edge from one another. Here is some piece of code for this figure and the resulting plot:
`plot_options = dict(plot_width=width, plot_height=300, x_axis_type="datetime",    x_range=p1.x_range)

p4 = figure(title="Analyse d'anomalie", tools="reset, pan, box_select, wheel_zoom",
                y_range=tuple(anomaly_names), **plot_options)
for j,name in list(zip(range(len(anomaly_names)), anomaly_names)):
        p4.rect(x="estampilles", y=heatmap_y_coordinate[j], width=1, height=1,
                color=transform(name, mapper), dilate=True, source=source)`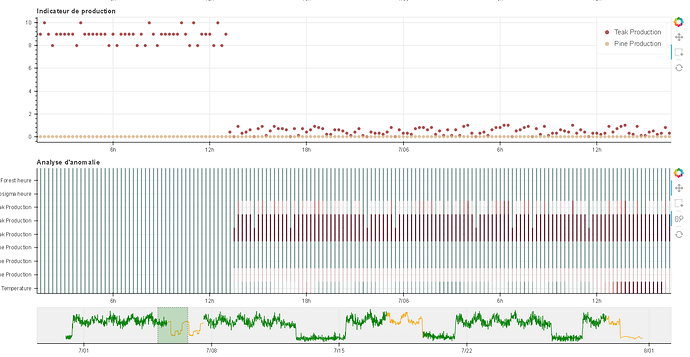 Thanks everybody for your input.
G.H.